David Procedure
The function of the aortic valve depends on a complex interplay between the four main components including the leaflets and aorta. In people with abnormal aorta tissue, the dilated aorta should be removed when it is greater than 45mm, and 50mm if no abnormality detected.
Competence of the valve can be restored by two main procedures. Remodelling procedure, or reimplantation procedure. In the first, the abnormal aortic wall is removed from the valve tissue and an artificial graft attached on the edges of the valve without specifically addressing any dilation of the annulus of the valve.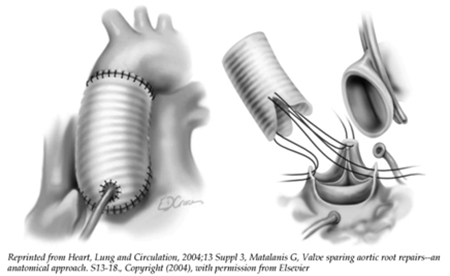 In the second procedure, often referred to as the David Procedure, the artificial material is sewn down below the valve annular attachment, thus reinforcing and strengthening this important component of the valve, as well as reducing the size of the aorta.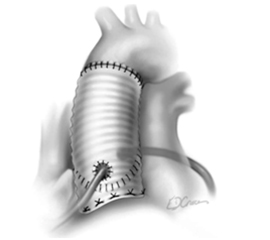 In both of these procedures, it is important to ensure that the valve leaflets are meeting appropriately, so there is often some procedure performed directly on them at the same time. Long term results of this procedure have been shown to be durable and reproducible in the hands of many teams worldwide.